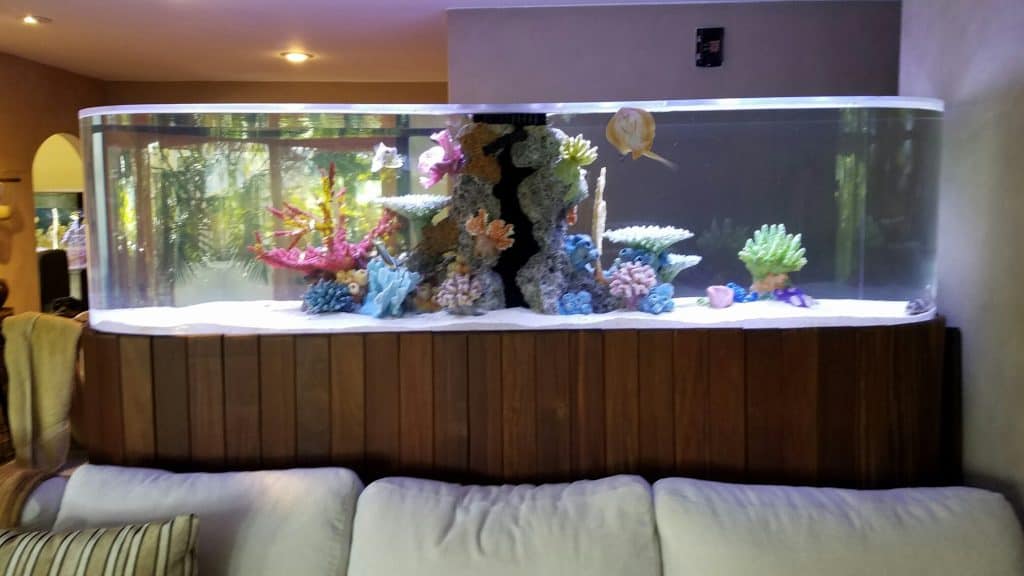 Custom Double Bullnose Aquarium
At Seaquatic Aquariums, our custom double bullnose aquarium reflects the unparalleled skills in designing, engineering and construction found in all our products. We produce a double bullnose aquarium of every size and dimension to fit any room in your home. It is perfect for displays of simulated reefs and aquarium life support systems. Share with us your dream double nose aquarium and let us deliver it to you.
The advantages of a custom acrylic aquarium are significant. The delivery of the product is faster and we offer that rare quality of the completely customizable aquarium, so you can get the exact fit wherever you want to put it. The manufacturing process allows any size or shape imaginable. Wherever you want your aquarium to go, we can design a good fit.
Acrylic material allows for larger aquariums because we can increase the width of the material to boost the holding capacity, and at the same time, the acrylic material is light and easy to use. Despite the lighter weight, acrylic aquariums offer six times the capacity of competing aquariums. This is a flexible medium to create double bullnose aquariums in any size.
We cut Acrylic with the latest laser technology to produce straight seams, and use sealant that creates a tight unit that trumps than conventional aquarium seams. Surface scratches can be removed easily. With our production process, we create the perfect bullnose shape. Acrylic is a hard and transparent form, and that is a plus for viewing aquarium life, especially if you want to eliminate distortion.
View our products and you will agree that the finished double bullnose aquarium is a beautiful addition that could easily become a focus point in your home or workplace. The seamless construction and amazing curves will impress viewers, and a 360-degree walk-around that's possible with a double bullnose aquarium is a nice feature. Once set up, it is a dynamic, colorful addition to any room in your home, office waiting room or retail business display. It would be hard to beat an aquarium for captivating audiences, whether it's just the family at home or clients and customers visiting your office.
Because the bonding we use in the acrylic manufacturing is resistant to chemicals, the problems that plague other aquariums are non-existent with Seaquatic Aquariums. Stained surfaces and joints are not a problem. Along with superior engineering and design, you receive a superior product in all respects. Call Seaquatic Aquariums today and start our team of dedicated engineers designing your custom double bullnose aquarium.
Schedule a FREE Consultation
Simply click below to learn more about our acrylic solutions.